Expert Witness: March 2011
Carolina Chocolate Drops/Luminiscent Orchestrii/The Baseball Project
That's What I Call Americana
Tuesday, March 1, 2011

Carolina Chocolate Drops/Luminiscent Orchestrii: Carolina Chocolate Drops/Luminiscent Orchestrii (Nonesuch)
The Chocolate Drops are an African-American string band from Durham whose first Nonesuch album avoided intimations of minstrelsy but not slavery times, which is when fiddle-banjo-harmonica-bones-kazoo ensembles first entertained both masters and comrades. As was both historically accurate and the thing to do on the folk circuit where they plied their trade, their first Nonesuch album was arresting but contained--soulful and rather slow, America having speeded up considerable since the 19th century. But on this EP they hook up with an NYC Gypsy band whose big moment up to now was one about puttin' the puddin' in the punum, and whoosh, they're off to the camptown races. All four songs are quick, sexy, and a trifle nasty. The first and last celebrate a "short dress gal" who walks "like a queen in the Amazon" from male and female perspectives, both of which focus on the same end. In between comes a fiddle-fed cover of the gold-digging Blu Cantrell hit "Hit 'Em Up Style" and one subtitled "Diga Diga Diga" that I say is about speed. Can't parse it further because it's in Roma. That's the 21st-century America I want to live in. A

The Baseball Project: Volume 2: High and Inside (Yep Roc)
These 13 excellent songs are sufficiently specialized to make you realize how classic Volume 1 was--and what a theme statement "Past Time" was. Here the lead "1976" mourns Mark Fidrych, and though those who don't remember how rock and roll the kid was should look it up, that choice signals a smaller compass and a focus on frailty and death. "Chin Music" cheers on bad-asses who throw up and in, but later beanballs have tragic consequences for Tony Conigliaro's career and then Ray Chapman's very life--in a closer narrated by Carl Mays, the submariner who delivered the fatal pitch. Just as sad and strong is "Twilight of My Career," narrated by a Roger Clemens they'll almost convince you is a tragic figure. Yet the new season always brings new hope--Panda and the Freak will win the Series, and Ichiro will go to the moon. A MINUS
Low Cut Connie/Les Savy Fav
Digging in the Dirt
Friday, March 4, 2011

Low Cut Connie: Get Out the Lotion (lowcutconnie.com)
The anthem here is "Shit Shower & Shave," in which scuzzballing Adam Weiner explains how "cleanliness is godliness" for a guy embarking on his quest for nocturnal emission, especially if he aspires to better than the handjob-for-hire of the album title. Less mannered here than on his pseudo-doowop project Ladyfingers (lady fingers? do we detect a fetish?), Philadelphian Weiner and some Brits with nothing better to do churn out a resolute rock and roll whose joyless momentum and stubborn little tunes will tell you more than you want to know about the pursuit of pleasure in America's deader downtowns and strip malls. My guess is that he romanticizes this pursuit some, perhaps because he believes the alternatives are measurably worse. You don't have to share his cynical sentiments. But there's a bitter pleasure in hearing his point. A MINUS

Les Savy Fav: Root for Ruin (Frenchkiss)
Root as in cheer and root as in stick your snout in the mud, and though I wish their vision of apocalypse had more finance and less earthquake in it, maybe the protagonists of the lead "Appetites" cover that option. The reason you'll care is that these guys came to understand how much Fugazi would be improved by songcraft and also how to provide same. The reason you may not care all that much is that the songs do cheer ruin on. "Excess Energies," which depicts a scenemaker's progress from fake ID to broke 35 and beyond, feels more autobiographical than it probably is. "Lips 'n Stuff" celebrates and dissects the friends-with-benefits trap. A MINUS
Louis Prima/Carmen McRae
Louis Prima: Zooma Zooma: The Best of Louis Prima (Rhino '90)
Tuesday, March 8, 2011

Louis Prima: Zooma Zooma: The Best of Louis Prima (Rhino '90)
A Vegas fixture for a quarter century before he died at 67 in 1978, this Storyville-born Sicilian singer-trumpeter shared his entertainment philosophy as well as his Christian name with Armstrong and Jordan. He crossed over r&b with 1950's "Oh, Babe!" but it was the honking tenor and rough vocal cameos of his compatriot Sam Butera that added rock and roll anti-class to a jazz act that pitted Prima's jocular leads against the sensible musicality of his consort Keely Smith. Prima was a go-for-the-gut clown whose signature musical tactic was to intersperse flat-out novelties like "Robin Hood" and "Jump, Jive an' Wail" with two-song medleys that moved the crap-shooting punters on to "I Ain't Got Nobody" before "Just a Gigolo" got old. Since 1990, when Rhino assembled these 18 tracks (14 on cassette, remember that one?), there have been more straight reissues, reshuffled comps, radio transcriptions, and live exhumations than I want to hear or count. More likely to cost four bucks than the 40 some chiselers are charging, this out-of-print 18-track laff-fest is probably the best, probably because it keeps the rock market in mind. The best alternative I've heard is the 1991 Capitol Collectors Series, which has eight more tracks but omits the nostalgic "Robin Hood" and the fat "Them There Eyes"/"Honeysuckle Rose." Forget Capitol's 26-track 2007 Jump, Jive an' Wail: The Essential Louis Prima, with its non-NAACP "Civilization (Bongo Bongo Bongo)," pre-IIADL "Luigi," and bored run-throughs of "Hello Dolly" and "Cabaret." The pura the zooma the betta. A

Carmen McRae: Carmen Sings Monk (Bluebird '02)
For those of us who admire the eminently capable McRae primarily for what she isn't--that is, a self-aggrandizing improvisor like Betty Carter or a nightclub hack like Nancy Wilson--this expanded reissue of the 13-track 1988 original is welcome because it honors Monk the melodist. Believe me, Johnny Mercer is not on board here; more than half the lyrics are by Jon Hendricks, who thinks "body loose" is a dandy rhyme for "loose goose," although his biographical takes on "Monk's Dream" and "In Walked Bud" speak enjoyably to what he knows best, which is music. The same goes for McRae, who burnishes and reshapes these great tunes subtly enough to let you know how deeply she's thought about them. Although pianist Eric Gunnison gets through way too many notes, the Al Foster-George Mraz rhythm section adds more than most of those the master gigged with, and longtime Monk saxophonist Charlie Rouse is so intimate with the material that there are times when he tops the headliner even though he never tries to upstage her. Note if you like that when I loaded this onto my iPod, where it certainly belongs, I omitted the five perfectly acceptable alternate takes, which have the effect of making the music go on too long. For an hour, it's a gift to the dead. A MINUS
Buck 65/M.I.A.
You-Know-What Like It or Not
Friday, March 11, 2011

Buck 65: 20 Odd Years (WEA)
Beholden to nobody's scene or purist myths, the Halifax-spawned, Toronto-based, Paris-savvy cult rapper makes beats his way--drum tracks of course, this is hip-hop like it or not, but with whatever on top, which here comes down to mostly female collaborators whose sonics subsume their considerable verbal input. Plus on two standouts 65 goes it alone: the opening "Superstars Don't Love," which leads with a fearless three-syllable Jay-Z impression, and "Zombie Delight," putrefaction taffy finished off with the glorious couplet: "There's very little information and no answers./One weird thing is that they're excellent dancers!" He also covers the seminal Canadian rapper L. Cohen and finds a use for compatriot Gord Downie. Um, of the Tragically Hip? A MINUS

M.I.A.: Vicki Leekx Mixtape (vickileekx.com download)
The fact that this was overrated as part of the same extra-musical chain reaction that caused Maya to be underrated doesn't mean it was merely well-timed and, as they say, well-played. It takes a while to congeal, but for fans there's spice aplenty in the skinny beats-for-their-own-sake that dominate a first half whose most memorable line is "try to outschool us so we jump on our scooters" (on "WWW/Meds/Feds" seven minutes in, and FWIW the Wikipedia times are 40 seconds off on my version). But after "Vicki Intermission" come three consecutive songs that'll make you madder than you were already that the artiste thought it provocative, as they say, to leave the album untracked: the well-hooked "Gen -N-E-Y" followed by "Bad Girls" and "Marsha/Britney." Theme statement: "You can have my money but you can't have me." Whether she's singing it for her penniless sisters or her affluent self is impossible to tell. That's why they call her provocative. Also, um, controversial. B PLUS
Peter Stampfel and Jeffrey Lewis/Tom Ze
70 Is the New 35
Tuesday, March 15, 2011

Peter Stampfel and Jeffrey Lewis: Come on Board (no label)
Stampfel will be 73 this year, hence perhaps his get-it-while-you-can production surge. Not only are albums tumbling out of him, he's gigging like crazy and sitting in with one of his many friends whenever he can. In fact, that's how this keepsake came about--as something to sell on an already scheduled U.K. tour, recorded in two dark days at the winter solstice. The equally hyperactive young Lewis proves an even better fit than his harmonizing daughter Zoë--the Sparrow to his Tuli, only each has more to say. The unrehearsed band make for a discernible improvement over Stampfel's recent Uncle Gramps and Zoë records and a drastic one over his Worm All-Stars record, as do Lewis's not-quite-nonsense songs for Jules Verne and Madame Tussaud and his fiddle-fed 10-minute earworm of a strophic closer. Stampfel's contributions include two of the dreamsongs he writes whenever he wakes up with a melody bouncing around his brain, several welcome remakes of old Antonias, and a lovely, loving throwaway called "Love Love Love." And here's the 72-year-old fun part. Lewis has a website and Stampfel a MySpace thingy. But the only simple way to obtain this enduring work of whatever-it-is is to buy a postage stamp and send a brief note and a check for 15 smackeroos to Peter Stampfel, Post Office Box 223, New York NY 10014. In the note, which can include words of love and encouragement if you like, ask him to mail you one. Hell, ask him to sign it. You have nothing to lose. A MINUS

Tom Zé: Estudando a Bossa: Nordeste Plaza (Luaka Bop)
One reason Anglophone rockers dig Zé is that he resists the Portuguese-style nostalgia epitomized by saudade. But though he never comes near morbidity, here he's definitely an old man looking back fondly and a little sadly at the lost grace and sometimes companionship of his twenties, when it's just possible he didn't appreciate everything he had--particularly the melodicism of a quiet pop insurgency he was resistant enough to realize was also an assertion of cosmopolitan privilege. So he compensates with the most unabashedly beautiful album in his tuneful book--undercut, true enough, by his 74-year-old mumbles and croaks and even groans, but also lifted toward Sugarloaf Mountain by 11 different young or younger women whose mothers and grandmothers he might well have jerked off to in the Brigitte Bardot era. Nor is he about to lose his sense of humor. Because those groans are actually pretty funny, therefore also are they uncommonly beautiful. A
Loretta Lynn and Friends/Lucinda Williams
Working the Drawl
Friday, March 18, 2011

Loretta Lynn and Friends: Coal Miner's Daughter: A Tribute to Loretta Lynn (Columbia Nashville)
Two historic performances, Carrie Underwood's cornpone-deluxe "You're Lookin' at Country" and a Lambert-Crow-Lynn trifecta taking the title song home, counterbalance cocky ones by the matched pair Jack White and Kid Rock. Both are guys, as you may have noticed, so let me note that Alan Jackson and Steve Earle distinguish themselves as the duet partners they're proud to be. This isn't just a women's record, it's a sisterhood record--not even the ever more stylized Lucinda Williams tries to upstage the artist who did more than Kitty Wells herself to make all these gals' artistic lives possible. Lynn still owns the songs, but she's pleased as pie to lend them out, and they come back to her lovingly countrified even when the borrower is Hayley Williams, of Paramore and Franklin, Tennessee, who acts naturally over an acoustic guitar and should give Jack White lessons. A MINUS

Lucinda Williams: Blessed (Lost Highway)
Maddening. Songwise it's a comeback--seven-eight repeaters compared to Little Honey's five, which I just went back and counted because they were so indelible I thought there must be more. Unfortunately, there aren't. Then again, indelible these aren't--too mushy around the edges. Williams has always worked her drawl, but here the extended vowels and slurred consonants tempt one to suspect she's afraid "We were blessed by the watchmaker/Who gave up his time" won't stand up straight next to "We were blessed by the wounded man/Who felt no pain." Unfortunately, it won't, and similar shortfalls cripple "Soldier Song" just before. What makes me half believe I'll want to hear this album again is the drawn-out religious rumination "Awakening," where vagueness signifies, and every solo Val McCallum gets. Atmospheric. Play loud anyway, so it won't be. B PLUS
Drive-By Truckers
DBT-09
Tuesday, March 22, 2011

Drive-By Truckers: The Fine Print (A Collection of Oddities and Rarities): 2003-2008 (New West)
"We don't tend to have many extra tracks lying around," aver Patterson Hood's typically readable notes, and if there are no printed lyrics, maybe that's because four of said tracks were covers: revamped Warren Zevon, obscure Tom T. Hall, meaningful Tom Petty, Shonna-fied "Like a Rolling Stone" (and I wouldn't say no to the "Moonlight Mile" I heard them do once). There's a dirty joke Mike Cooley turns into a children's song and a Christmas song Hood turns into a dirty joke, a Jason Isbell song that's three minutes too long and a Jason Isbell song that could be his own epitaph, a "Goode's Field Road" taken too fast and an "Uncle Frank" taken once more with feeling. And I haven't even mentioned "George Jones Talkin' Cell Phone Blues." Lead track. Should be. Not much extra here. A MINUS

Drive-By Truckers: Live From Austin TX (New West)
A consistently listenable document of a documentably titanic live band. The only hedge is that it's front-loaded with most of the same songs that lead the band's greatest album, not that I ever mind hearing them again. Second half is a generous assortment that revs up the signature "Puttin' People on the Moon" with roughed-up Hood and Cooley solos, improves on the Cooley highlight from their weakest album, and updates Hood's deathless set piece "18 Wheels of Love" to bring the miracle into the present time--and also, you'll hope, the future. B PLUS
The Year Before the Flood: A Story of New Orleans
By Ned Sublette/Lawrence Hill/2009
Friday, March 25, 2011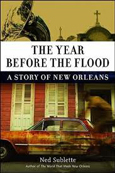 Ned Sublette's 2004 Cuba and Its Music is recognized as the standard text on the subject and his 2008 The World That Made New Orleans is known to have opened new doors on the history of not just New Orleans but chattel slavery in America (here's looking at ya, Thomas Jefferson). But this 2009 memoir of the year Sublette spent researching The World That Made New Orleans at Tulane, which turned out to be the last year Old New Orleans existed, seems to confuse even those who admire it, at least in public. This is in no way a nostalgic or even especially pro-New Orleans book. The man loves New Orleans more than he likes it.
The Year Before the Flood honors New Orleans for what it brought to this nation's culture, which Sublette believes is most of what is precious in American music. And the city's musical life in 2004-05 clearly intoxicated him. The case he makes for its oft-overpraised live music "scene," a term it is always wise to use advisedly but that applies here if it does anywhere, is as convincing as any this record-centric skeptic has ever encountered. And the chapters on New Orleans hip-hop are breathtaking, especially coming from someone who loves its r&b so much--enthusiasm for the city's modern music is in short supply among fans of the traditional stuff. Sublette celebrates the musicality of smash singles that barely dented the national consciousness while at the same time grimly documenting the vicious violence and predatory criminality the city's hip-hop celebrated and often made its own. Money quote: "Part of the ongoing evolutionary mutation of hip-hop is to be impenetrable if not downright unfriendly to white people except as consumers. Talk about a copy code: hip-hop is multiply encrypted in all kinds of ways so that unlicensed users will have as hard a time as possible hacking it and taking it over, both artistically and in simple terms of a protective shell of violence."
But Sublette, as I haven't specified, is white himself, and as he describes in telling demographic detail, thus subject to the hard and petty racial hostilities and bifurcations he encounters and dissects almost everywhere he goes in the so-called Big Easy. The ability of this Southerner born and raised to accept, cope with, and when necessary resist the dangers African-Americans pose while at the same time despising and excavating white New Orleans racism past and present is typical of his analysis, which finds New Orleans unlivable in many respects and explains fully, cogently, and coruscatingly why that should be so. He doesn't even really like the food that much.
Finally, there are personal dimensions to this memoir that you won't find in many others, for two reasons. The first is that Sublette is probably the poorest historian you've ever read--by which I mean, to be perfectly clear, the most cash-strapped--and rightly regards his economic struggles and stratagems as part of his story. The second is that--not counting the Calvin Trillins who write whole books about their marriages--he probably loves his wife more than any memoirist you've ever read and rightly regards that as part of his story as well. Constance, this book's for you.
Those Darlins/Middle Brother
Road Songs and Bros
Tuesday, March 29, 2011

Those Darlins: Screws Get Loose (Oh Wow Dang)
What pushes this Nashville cowgrrlcore trio past the cutesy two-steps and over-the-hills strums of their brief professional yore is the male drummer who turned them into a quartet. But I bet the Casio that marks track one as not-country was their idea--and that, actually, so was the drummer. Because this album's great leap forward is hooky, saucy, punky songwriting in a mood somewhere between Be Your Own Pet and the Donnas, only savvier: "Be Your Bro," which may not sum up their platonic feelings for that drummer but could, or "Hives," proving they do too get the itch, or "Boy," in which love on the road needn't be permanent to be nice. They have mouths on them, yes they do. But their mouths are connected to their hearts and minds, and amped by loud guitars. A MINUS

Middle Brother: Middle Brother (Partisan)
Deer Tick's John McCauley is the centerpiece of this Americana supertrio. Compared to Matt Vasquez of the florid Delta Spirit or Taylor Goldsmith of the wan Dawes, he's got the melodies, the wit, and the cultivated rasp. What he doesn't have is the ripeness of spirit without which roots music dies on the vine. So the doting Vasquez love song "Blue Eyes," the lyrical Dawes lost song "Thanks for Nothing," and the clippety-clopping Replacements road song "Portland" all augment the deep craft and acrid wordplay of the guy who's why you heard them--in fact, who's why you heard this varied, consistent, tune-conscious album. Catchiest of all is the McCauley road song "Mom and Dad," sing-song rather than clippety-clop and better for it: "Mama gave a camera to her little star/All she gets is pictures of hotels and bars/No Big Ben, no Statue of Liberty." A MINUS
MSN Music, March 2011
---
| | | | |
| --- | --- | --- | --- |
| | February 2011 | April 2011 | |